Shah's Responsible Knights – Not just some SRK Fan Club!
Everyone knows about the King of Bollywood – Shah Rukh Khan- for his acting skills, great sense of humour and respect for women. There is, but, one secret, which very few people know – his philanthropic work which he carries out but never discusses openly. In fact, he is the first Indian to be awarded a UNESCO Award for his humanitarian acts. And when we talk about SRK, how can we forget about the huge fan following he has all over the world! Very recently, our team got to know about an Initiative started by Delhi – NCR SRK Universe Team and we were amazed to learn about the kind of work these guys do. Let's hear it out from Siddharth Gupta or as his friends call him Sid, a huge SRK fan involved in lots of philanthropic work himself and currently leading the initiative along with Aanchal.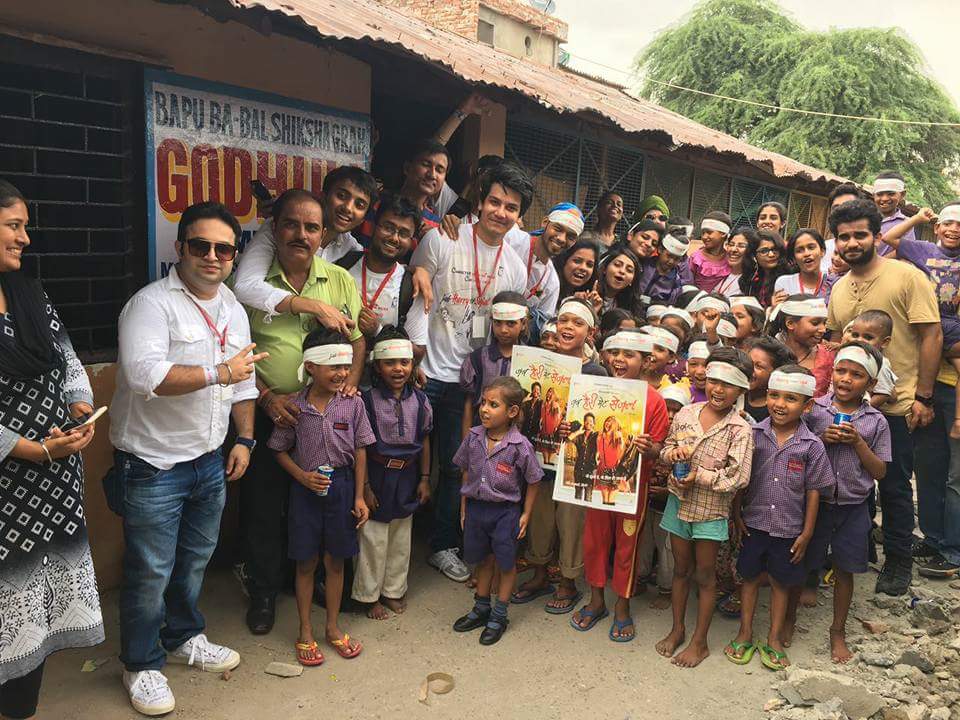 Question – Sid, it's fascinating to hear a lot about your team recently. First of all, what is this SRK initiative about and how did it start ?
Answer – Well, SRK- the name stands for Shah's Responsible Knights (that is what we call ourselves). How can us, SRK-ians, while following his style and reel examples, be left far behind in following his real life amazing philanthropic examples? Earlier, the Delhi Universe family used to conduct such drives post each SRK movie screening. We received a lot of positive response from everyone and realized that all of us had a yearning to contribute to the society. So we thought that it was time to get more deeply involved into this and eventually decided to conduct these drives regularly, irrespective of SRK movie screenings. So we started with the SRK Initiative and extended our love for SRK to fellow human beings.
Question – Our readers would like to know exactly what is it that you do in these drives? And should we be expecting your team to carry on the initiative in future as well ?
Answer – Yeah sure! Thanks to everyone who encouraged us over the years to lend support and spread compassion in the society. We primarily started with Hunger Elimination drives across the Delhi – NCR region, wherein we fed 200 people with healthy and delicious food in each drive. It's extremely overwhelming to know that SRK Universe families across India have taken up this initiative and now we are not just limited to Delhi but have a pan India reach. Going forward, we are also planning to add few more ideas to our bucket of initiatives, like providing clothes, books and carrying out "Clean India, Green India" drives.
Question – Wow! That's amazing! You guys seem to be doing a really great job. We would really appreciate if you could share details about the major drives you have had till now.
Answer – Sure. I will walk you through the major ones.
Drive 1: Shah's Responsible Knights- 25th June 2017
It all started on SRK's 25th Bollywood Anniversary. i.e. 25th June 2017, and of course as each drive goes through a lot of planning beforehand, such as arranging funds, deciding food items, choosing up the venue,  we agreed on distributing Burgers, Frooti and Muffins to around 200 people near Dwarka Sec-11 Metro Station. We got to know about this place from Aanchal's friend Monica, who is part of the Robin Hood Army. The happiness we received from the overwhelmed kids laid the foundation for our next drives. You will be amazed to know that the date for second one was agreed upon the very same day.
Here are some pictures from our first drive – Shah's Responsible Knights – 25th June 2017
[smartslider3 slider=5]
Drive 2: AIIMS hospital- 23rd July, 2017
For our next drive, we had initially decided to extend our help to a leprosy centre. But, just before the event date, our team leader (Aanchal) noticed that a lot of people (patients and their loved ones) waited around AIIMS Metro Station. These people had no place to stay, were deprived of food and water during the peak hours of hot summer day. We decided to beat the heat at 12 in the afternoon and provide everyone (around 200 people) outside the hospital with Bread Pakoras and Lime flavored drinks to bring back the lost smiles to their face.
Here are some pictures from our second drive – Shah's Responsible Knights- 23rd July 2017
[smartslider3 slider=4]
Drive 3: Shah's Responsible Knights- 4th Aug 2017
We decided to conduct the third event on the FDFS of Jab Harry Met Sejal. For this, we reached out to the same school we had approached when Dilwale had released. We served 100 kids with Burger King meal that included a Burger, French Fries and Coke. Not only that, we had a lot of fun with the kids and danced with them too. The best part of this drive was that the people here recognized us.
Here are some pictures from our third drive – Shah's Responsible Knights- 4th Aug 2017
[smartslider3 slider=3]
Below is a video where we are having a great time and are dancing with the kids.
Drive 4: Shah's Responsible Knights- 15th August 2017
What could have been a better day, to conduct the fourth and the biggest drive, than Independence Day, where the number of lives we were able to touch crossed 300. We served them Rajma Chawal along with Coke/Limca. The event was organized at the same place as that of our first drive. Again the local kids and people out there welcomed us with open hearts and recognized us immediately. We really could not have asked for anything else at that moment.
Here are some pictures from our fourth drive: Shah's Responsible Knights- 15th August 2017
[smartslider3 slider=2]
We deem ourselves to be Responsible Knights, hence, we always ensure that we don't throw used disposables just like that. We make a conscious effort to collect our waste and dump it over. This is our bit for the Swachh Bharat Campaign.
Question – That's really admirable. Hats off to your team for working at the grass root level. But how do you manage the funding? Can anyone outside the SRK family join your team or at least help you with the funding?
Answer – We are more than happy to welcome anyone who wants to be a part of the initiative. As for the funding, the members of the team pool in money for each drive. Interested people can reach out to Aanchal or me (Siddharth) for joining us.
Question – You guys do all this for SRK. But does he know about this? Did Shahrukh Khan notice your work?
Answer – Haha, you got us wrong there. We are not doing it "for SRK" but we are just a bunch of people from SRK Universe family, who are inspired by SRK's philanthropic work and want to contribute to it from our side. And.. Hmmmm … Yes, he knows about it and has been proud of us for doing all this.
Question – Our team got in touch with a few college friends of yours and got to know that you had been involved in such activities during your college as well. How do you think it's different now?
Answer – At that time, I used to distribute food as an individual and that too only on SRK's birthday, limited to 40-50 people at max. Now, I am actively involved with a group of enthusiasts who are willing to step out of their comfort zone and make a difference. This group has given me a new reason to move ahead in my life.
As they say, numbers are just figures, but in the end, with the help of our group, we have been able to reach hundreds and thousands of people across India. And I don't think I could have ever managed to do it by myself. To top it, appreciation from our friends has always motivated us to keep going further.
This YT video sums it up for us :)"
Question – So, what next? Anything big that you are planning?
Answer – Yes, in fact for the coming new year we are planning something really huge. And the best part is, it is not just restricted to Hunger Elimination anymore. In our next drive, we are planning to spread awareness about multiple challenging aspects at the grass root level like education, health and hygiene. Our main focus will be on women empowerment. Through this, we are aiming to touch the lives of thousands and make a difference on a bigger scale.
Team Smugg Bugg – This sounds good. Even we are getting charged up to join you guys!
As you can see, this is not just about SRK, this is much more than that. What a huge impact these guys are making on the society with clear plans laid out for the future. I am sure this Fan club would be the first and only such fan club of any celebrity around the world, working so hard to spread love and smiles.
Kudos to the SRK Universe-Delhi team for the amazing work carried till now and best wishes for much more to come.