If you are into blogging and search engine optimization, you would probably know what I would be doing in this article. Yes, I would be dealing with two search engine that dominates their region. I am telling you "how can you submit your website and get listed on Baidu and Yandex webmaster tools."
You may be already aware of the various search engines available on the web such as Blekko, Google, Yandex, Baidu, Duckduckgo, etc. You may be wondering how these search engines could get you a top place in the search engines.
Baidu is the search engine that dominates China while Yandex enjoys holding over the Russians
So what are we waiting for? Here comes the part where I will show you to submit your website to Baidu.
How to submit your website on Baidu Webmaster Tools?
Let's not waste time on exploring about Baidu. If you want information on it simply click here Baidu Wikipedia…
To submit your website to Baidu you would simply need to follow the steps given below
Step 1: Go to the Homepage of Baidu Webmaster Tool  (it is advisable to open it in Google Chrome, the page would be automatically translated to English or you could choose your preferred language from the drop-down that appears) 
Step 2: As shown below click on the "Register Now" link
Step 3: Once the page loads, open the "Mail registration" tab where you could register your website.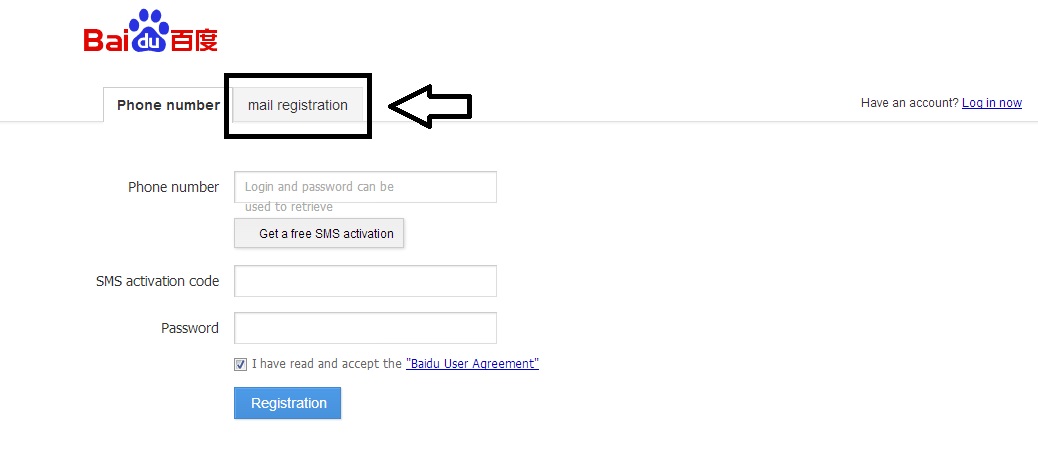 Step 4: To register you must have an email id. Just put in your email-id and choose a password. Click "Register"
Step 5: Complete your registration and verify your email id by clicking on the verification mail sent to your mail. Once you verify you would have successfully registered to Baidu Webmaster tools
Step 6: However in some cases, you might need to give your mobile number and verify it for getting complete verification.
Step 7: You now would need to go to the Baidu Webmaster Homepage and login with your new account
Step 8: Next you would be taken to a page where you need to enter your website.
Step 9: Enter your website and click on the "Add site" button.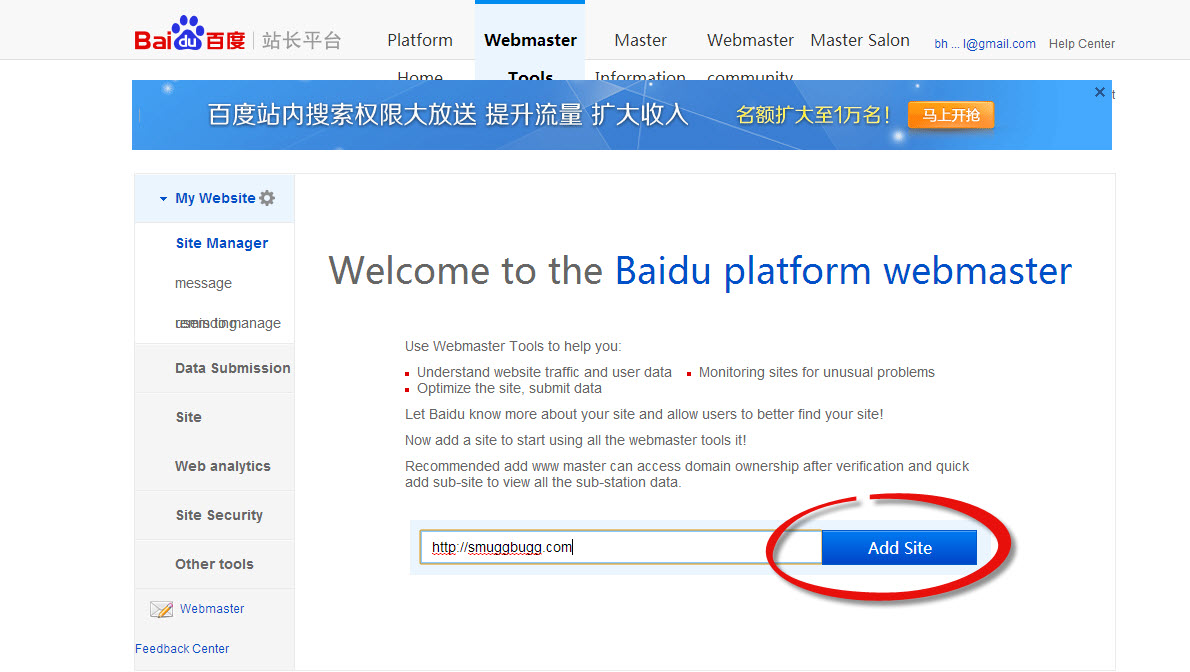 Step 10: Now you need to choose an appropriate method of for verification of the website. Once you have selected and completed the task, click on "Complete Verification" button. Your website is then submitted to the Baidu Webmaster.