Kapil Taneja is an entrepreneur and businessman who founded Purple Group in 2010 which has more than 20 LLPs and Private Limited companies.
Purple Group grew from a small real estate agency to become a leading estate development company in Rajasthan including interests in several other business sectors.
Kapil Taneja is also known to focus on working with his charitable foundation "Purple Good Vibes" along with his wife and family that is known to provide formal education to the underprivileged children.
About
Kapil Taneja was born in Sikar, Rajasthan on 16 December 1978 to Dr. CP Taneja, a retired principal of government college, and Mrs. Sudesh Taneja, a homemaker. He was decent in his academics but was more interested in business opportunities from an early age.
After completing his schooling in 1993, at the age of 15, he started to try his first business venture. But he knew that without the knowledge and experience, he wouldn't thrive. So he asked his uncle to help him learn and understand the business basics. For the next one-and-a-half years, Kapil Taneja learned the art of doing business, helping his uncle with his hosiery business. If you want to know that how Kapil Taneja Started his Business Journey then visit here.
He enjoyed the process of working with a team and spent time learning the dealings. At that moment, he realized that the biggest asset a business could have is its employees and staff.
Kapil Taneja always believed that "A Successful TEAM is a group of many hands joined together to give the best outputs" so he started building a team of people who were passionate and full of enthusiasm.
The Start of his Business Foundation
After almost two years of hard work and skill learning, Kapil Taneja established Payal Garments in 1995, a wholesale readymade garment business in Sikar. He started wholesaling garments to many local vendors in and around Sikar. He used to make frequent visits to Ludhiana and Delhi via busses and scooter so as to import good from there. It wasn't a pleasant experience as traveling so far with an anticipation of not getting a good deal from the dealers always ate him, and he was only 17.
He worked really hard and with all his dedications, just to achieve those aspirations that he always had in his tiny heart. A juvenile with lots of dreams in his eyes started taking baby steps towards his goals in the hope that 'One Day he will be a successful man'.
Three years has been passed in his hosiery business and Kapil was still eagerly waiting for his first big profit. There wasn't much going on in his business. But he wasn't going to give up, even though he was making zero profit. His first profit was yet to come. He always says one thing "NEVER GIVE UP because winners are not people who never fail but they are the ones who never quit". And undoubtedly this kept him going, ALWAYS.
Getting to know that his hosiery business is going nowhere, he developed an interest in share market after he had a chat with one of his friends.
In 1998, Kapil Taneja bought his first share in Cadbury and pleasingly, he experienced a profit of Rs.800/- that he recalls as his 'first' income. Delighted over the fact that his decision of investing in share market was a success, he continued with share market trading for the next two years along with running his hosiery business in parallel.
He made modest profits for the next couple of years with his two ventures up until 2000. This was the time and year when he suffered a great loss. Kapil Taneja lost around 5-6 lakhs in total with his two business ventures going down.
This is the time when 90% people quit. But according to Kapil, a loss could not decide the rest of his life. He just didn't allow this to happen.
And somehow, he managed to overcome the financial crisis but now he was left with nothing. He didn't know how to start a business. But, he knew that starting over and laying the foundation of a new business will be lonely, stressful, and all-consuming, then again, he had never learned to stop trying so he gave himself another chance.
Kapil Taneja knew that this failure is only a temporary setback on a bigger, more significant course. He was taught that everybody encounters failure at one point or another and what really matters is how you react and learn from that failure.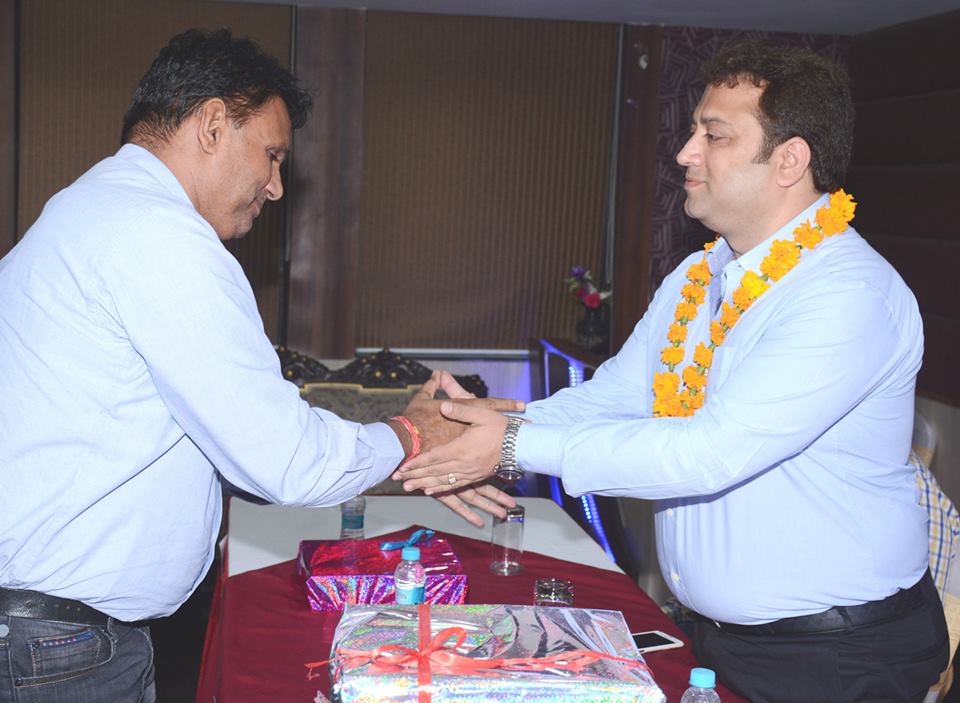 In 2000, Kapil Taneja acquired the sub-brokership of Nirmal Securities, a security services agency in Sikar, from Rajendra Gupta. At that time, around 17-18 terminals of Nirmal Securities were already up and thriving in Sikar. The competition was already tough and for a competitive advantage, Kapil knew that he had to operate the company from a different place, where business' presence is low. So, after a lot of research and analysis, he picked Shri Madhopur for this business.
At the age of 21 in the year 2000, he established his security business in Shri Madhopur. It wasn't easy but he had to make it possible because he had put all his investment and life savings in this business. Difficulties and obstacles could never stop him. He successfully kicked all of them out of his life with his strong determination and infinite passion.
However, the stretch of failure seemed to follow Kapil when he acquired the sub-brokership of Nirmal Securities. It didn't work for him and even without completing a year, Kapil's security business in Shri Madhopur crumbled leaving him in a huge debt of Rs. 8 Lacs.
However, it didn't hold him back from exploring new opportunities. And despite facing criticism, he knew business is all he could do the best.
In 2001, he moved to Jaipur. He now knew that life is a constant process of learning, and it is a well-worn cliché that you learn more from all the mistakes in doing the business than successes.
After his small stint with Nirmal Securities, he seized the opportunity of taking a good, hard look at how a stock market business works and where he went wrong.
He established Payal Securities, and to everyone's surprise, the company went on to make huge profits within a span of two years. In the meantime, he acquired the franchise for Motilal Oswal in 2002, and by the end of 2003, he became the sole broker to distribute Motilal Oswal franchises throughout Rajasthan. Kapil now had 17 offices throughout India working in full-fledge. What a success! Boundless and Colossal! Isn't it?
This was his peak time in his business career and things were going his way. But life is a series of punches, it presents a lot of challenges, it presents a lot of hardships. When Kapil was on a family holiday, his staff committed fraud behind his back and when he came back, there was nothing left. Nothing means NOTHING. No employees, all 17 offices wrapped up, and all clients are gone.
Feeling betrayed by the employees he loved and cared for, Kapil managed to hold on to his strength and was ready to take those punches and ready to move forward.
For Kapil, a single lie discovered was enough to create a doubt in every truth expressed. This time, he went all brain instead of a heart. He included his brother, Ankur Taneja, in his business venture and started all over again from the scratch.
From recruiting a team of professional HR consultants to trusted accountants and IT professionals, Kapil had a vision this time and there was no margin for error. It took him two years (2004-2006) to regain his lost stature but eventually, it was fruitful.
Entering the Real Estate Business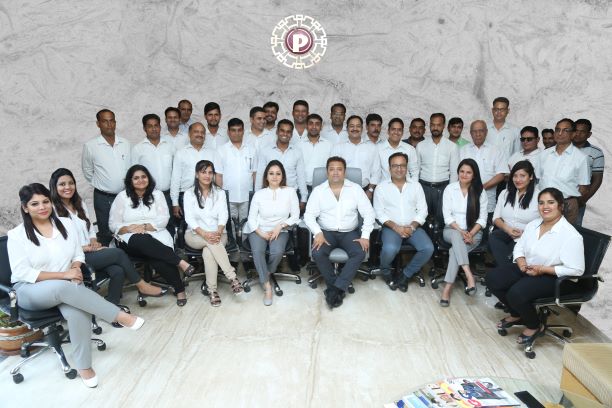 This is said to be the turning point of his business career. In 2006, work commenced on building his first home in Jaipur and he moved to the capital city with his family in 2007.
2008 was the year when the recession took a big play at the business owners across the globe. Companies were facing a huge loss, employees were being fired, all in all, it was a big chaos. But Kapil Taneja seized this opportunity to do something different. He thought as an opportunist and hit the market with a bang. He attained the Stock Market Membership in 2008 and began trading. He wasn't affected by the recession and in 2009, he went on to inaugurate his company's first corporate office in Tonk Road.
Success was truly kissing his feet and by acquiring his first auctioned land by UIT in Barmer in 2010, he forged a new path to success.
He laid the foundation for Purple Group in 2010 and grabbed the biggest construction project of his life till then – the CITY CENTRE in Barmer. The unique and distinct architecture was an amazing concept designed for both residential and commercial needs. The building boasts 235 shops, anchor shops, 35 offices, and 95 flats.
The project turned out to be super successful in the business and it laid a path for a series of other successful projects for Purple Group.
The success of the CITY CENTRE was followed by Panache in Alwar, with the residential building offering 230 high-end flats. The work for Panache was commenced in 2011 is known as the first and the tallest twin tower in Alwar, an achievement that Kapil Taneja cherishes to this day. The project was completed in 2013 and handed over to the residents.
Upping up the ante, Kapil's next project was a 267 luxurious flats apartment building – Vivanta that also got the taste of success.
His other successful projects include:
Melodia, Jaipur – 3, 4, & 5 BHK Luxurious Flats, Duplexes, and Penthouses at Gandhi Path, Vaishali Nagar Jaipur. This building is under construction and is one of the best projects that you will find in Jaipur. The best part about it? It is in the poshest location of Jaipur and is the only building with a terrace swimming pool. Other than this, think of the amenity and Melodia has it in it.
Symphonia, Jaipur – 2, 3, & 4 BHK Luxurious Flats. Another residential apartment for the people to have a beautiful apartment in Vaishali Nagar.
Success is no accident for Kapil. It is his hard work, determination, learning, sacrifice, and most of all, love for what you are doing. After establishing himself as one of the prominent real estate developers in Rajasthan, he turned his head towards the southern side of the country, Goa. Aura Goa is one of the most luxurious and tourist-friendly hotels in Goa developed by Purple Group.
His company has won several accolades for their influence in the real estate business. Kapil's aim is to offer affordable yet luxurious living solutions to the residents.
Vision: His vision is to build a luxury chain of resorts throughout the country and promote luxury living among the people.
Kapil Taneja, as said before, is the perfect example of how a person can achieve whatever he wants to if he keeps working hard. A successful man is the one who can lay a firm foundation with the bricks others have thrown at him and this is what Kapil Taneja did!