Hello guys I am Somil and in this article I am going to talk about social media (social marketing) and how does it affects your website. Having a social media is must for your website popularity. After all it popularizes your blog for free.
Promotion:
As I said during the intro, social media helps you to establish your brand. Suppose you have an ecommerce website with 5000 likes on Facebook and 2000 followers on Twitter and you are going to post an image of one of your product. Now think about the possibilities. If you are going to post your image at night around 8:30 pm or 9 pm (during this time maximum number of people are online) then your image will be seen by at least 2000-2500 people who are online during that time. I think this is one of the great free advertisement for your product.
Increase's Website Traffic:
It increases your website traffic. As your social media followers will not be considered as unique visitors but they'll increases your page view count. More page views means more money as visitors/customers will see you ads/products more number of times.
Brand Establishment:
You can also use your social media presence to attract the visitors to like your page on Facebook or follow you on Twitter. If you have more than 5000 likes on Facebook than visitors will surely think that this website is great and at least one time he/she will surely think to like your website on Facebook. On the another side you are establishing your brand among your visitors or customers.
Awareness Creation:
Social Media sites also helps you to aware your loyal visitors or customers. Suppose you are going to put your site is maintenance mode for 1 day than you can aware your customers or visitors just by posting an image or posting a post. This will notify your loyal visitors and saves their precious time by not visiting your website for that 1 day.
Keep Track of your Competitors:
You can always keep track of your competitors by their social media followers. Suppose you have 5000 likes in Facebook with 2000 followers in Twitter and your competitor has 15000 likes on Facebook and 10000 followers on Twitter then it is obvious that your competitor is performing better than you in this web world.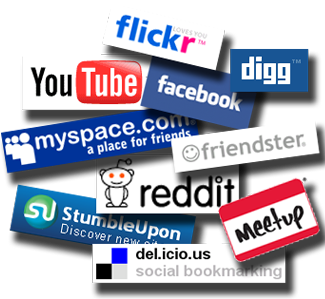 Improves your Search Engine Ranking:
I don't know how many of you know about this but having a huge audience in social networking sites  really improves your search engine ranking. Search engines are notified every time whenever a visitor or customer share your article or product in social media website. The more visitor share, the better will be your ranking.
Gain your Visitors Trust:
Talk with visitors or customers and achieve their loyalty as a reward. Lot of time people ask questions out of their doubts. Just answer them in a friendly way and believe me he/she will publicize/share your article during your first interaction or second or may be third. But believe me, he/she will.
Analyze the Feedbacks:
Most of the time or rather I would say 99% percent of the time a visitor/customer gives the feedback about your website through social sites. They just post what is on their mind on your Facebook wall. They don't bother to contact you via your "contact page". That's why you get lot of feedback about your website and you can analyze your website more thoroughly because of large number of feedbacks.
Ask their Opinions for Future Products/Articles:
Suppose you are running out of ideas and you don't know what should you post next time then you will always have an option to ask their opinion. Suppose you post "what do you guys want to learn next time?" on your website Facebook page and 100 people commented on that post with their ideas. Then I think you'll have at least 20 new ideas which is enough for your next 1-2 months.
Spread your Words:
You can always spread your words through social media websites. Suppose you share one of you article on Facebook. If the visitor find that article interesting then surely he/she will share your article. Then the friends of  your visitor will get a chance to read your articles. Now they'll share your article and let their friends to visit your website. Now their friends will get a chance to visit you website and this chain lasts for so long.
Last but not the least I want to know how social media changes your website traffic and reputation. You can use comment section below to answer this question.
Image Credits: Anonymous