These 10 foods will make you look young forever! Have a look at some anti-ageing foods
Everyone wants a beautiful, healthy and glowing skin. Having a radiant skin is all about the type of food you eat. There are some foods which contain anti-ageing properties in them and when they are regularly consumed, they can not only keep you away from ageing but also keeps you away from age-related diseases and increases your life span. As you all know, by the age of 40-50 the skin starts losing its moisture and firmness. So to keep your skin wrinkle free there are many anti-ageing foods which are high in Vitamins like Vitamin A, C, and E. Here is the list of 10 anti-ageing foods which will help you in maintaining your skin.
Avocado
Avocados are filled with healthy fat which helps your skin to stay hydrated. Avocado contains Vitamin C and K which improves your skin from inside and maintains the complexion. It contains an antioxidant that enhances your skin from inside. Avocado clears out your pores and gives you a fresh look. Avocado is one of the best anti-ageing food.Here are some other Protein Rich Foods You Must Include In Your Diet.
Spinach
Spinach contains antioxidants compounds which protect the skin against the damage caused by the sun. Spinach makes your skin look healthy and is a powerhouse of nutrients. This green vegetable is also a great source of Vitamin K which helps in blood circulation and keeps your skin healthy from inside.
Dark chocolate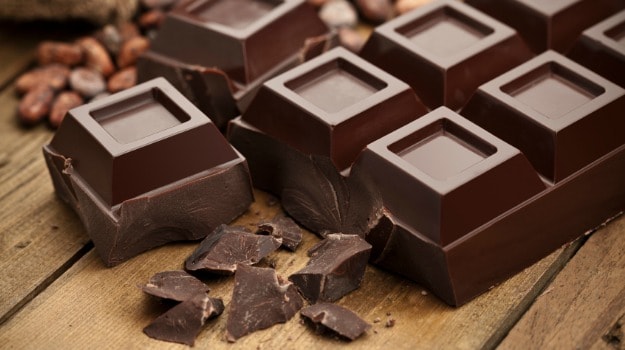 Who doesn't love chocolate? Everybody loves it, and the best part about dark chocolate is that it helps in keeping your skin healthy and free from anti-ageing. Dark chocolate is made with at least 70% cocoa, and it is full of protein and Vitamin B. Dark chocolate also helps in burning the fat and improves your skin and hair.
Blueberries
Blueberries as tasty as they look, they are also rich in Vitamins which help in blood circulation. It also provides minerals and salts which help your body to fight against ageing. Blueberries are one of the healthiest fruit which helps in both mental and physical effects of ageing. Here are some other Healthy High Carb Foods You Must Include In Your Diet.
Walnuts
Walnut is a great source of omega-3. Nuts contribute in controlling cholesterol level, and it improves the digestive system and the immune system. Walnut can be consumed raw, or it can also be added to desserts and salads. It is also very rich in minerals and helps in keeping your skin fresh and fights against ageing.
Sprouted beans
Sprouted beans are an excellent source of anti-oxidants and proteins. It has many benefits for your body and skin. Sprouted beans are a very useful aid to anti-ageing. It is also very rich in vitamins and minerals which make your skin look radiant and wrinkle free.
Pumpkin
Pumpkin contains many anti-ageing benefits. It has beta-carotene in it which helps in maintaining healthy skin and eyes. It also reduces the number of diseases. It helps in protecting your skin against sun damage which makes your skin look dull and full of wrinkles. Pumpkin is also great for immune system.
Pomegranate
Pomegranates are packed with Vitamin C and guard the skin against wrinkles and effects of sun rays. It has a polyphenol compound which fights the damage, and the other is a super nutrient compound which increases the capacity to preserve collagen. Pomegranate makes your skin look smooth and plump.Find other benefits of pomegranates as well.
Broccoli
Broccoli is another green vegetable which fights the signs of ageing. It is rich in Vitamin C which makes your skin look wrinkle free and makes your skin smooth and firm. Broccoli also contains Sulforaphane which helps your body in getting rid of the toxins. This green vegetable also prevents cancer and heart diseases. Try eating steamed broccoli as lunch or dinner.
Orange
Oranges have a lot of water in it which hydrates your skin and all the skin cells. It is an excellent source of Vitamin C and helps in keeping your skin supple and healthy. This fruit should be consumed every day if you want to protect your skin from ageing. It also protects your skin from pigmentation.