10 Things will Make You Feel in DUBAI
From Skyscrapers and luxurious hotels to souks and even skiing, Dubai has it all. This is one of that city that you must explore once in life.
Here are 10 things that you must visit Dubai.
1. BURJ KHALIFA
Here, explore the exhibit on the history of the building, then ride the fastest elevator in the world. The view from the hotel will blow your mind. If you enjoy photography, you can take a tripod along to capture the beautiful panoramas across the country. The building has its metro stop.
2. DUBAI CREEK
Take one of the ancient beautiful roofed boats from Bur Dubai Abra Station on the southern side, and ride across the streams for just a dirham. This journey will take you back to 1960 when the city was found. You will be welcomed by the aroma of Dubai's spice souk. Stroll around the old locales of Deira.
3. THE SHEIK MOHAMMED CENTRE
If you are curious about Islam, then this is your place. This place was established by an Emirati man who wedded a European woman and hosted by Nasif, general manager; this place is great for inter-cultural experience. Come here once and you will leave with a whole new perspective on the Muslim world. You could also enjoy a Traditional Emirati cuisine here. You could ask them if you could go up to the roof and enjoy the view of the Bastakia Quarter, an ancient Persian district.
4. DUBAI'S PUBLIC PARKS
Parks might not be on the list of things you would expect to visit in Dubai, but the city is home to some of the most spectacular, clean, and lush parks. In 5dhs you can get entry to the public park. There you would find Pakistani, Emirati, Indian, Arabic, and European families having a picnic side by side. Safa park is spread on a 150 acres land with waterfalls and hills. If you got your kid with you, then try Mushrif Park, this has a beautiful woodland and zoo.
5. RAVI'S
One of the longest-serving restaurants in Dubai, Ravi defiantly deserves a visit. Here you will not find white table clothes, expensive wine lists or stuck-up waiters. You will be served with some delicious, honest Pakistani curry by some friendly staffs. Favorite items include mutton tika, daal, chicken both and mutton kebab and hot fresh fluffy bread. You can come and have a decent meal with your family in less than 100dhs.
6. BURJ AL ARAB
The Burj claims that it is the only 7-starred hotel in the world, you agree or not, it is indeed one of the most iconic structures in Dubai. Towering at the height of 321 meters above the coastline of Umm Suqeim, its design represents a swelling sail. One of the best viewing points is from the nearby public beach. One of the most popular photographed structures in the world and of course the most luxurious one.
7. SKI DUBAI- MALL OF EMIRATES
Want to enjoy deserts as well as ski slopes? Then go to Ski Dubai; a huge ski slope placed in the Mall of Emirates, close to Burj Al Arab. It comes as a bit of shock when you go from 50 degree Celsius desert to below zero temperature. However, you will be provided with all the necessary equipment. There is also a café-bar in the ski slope so you can stop and enjoy a hot chocolate. The snow passes would cost you 260dhms.
8. JUMEIRAH BEACH AND DUBAI MARINA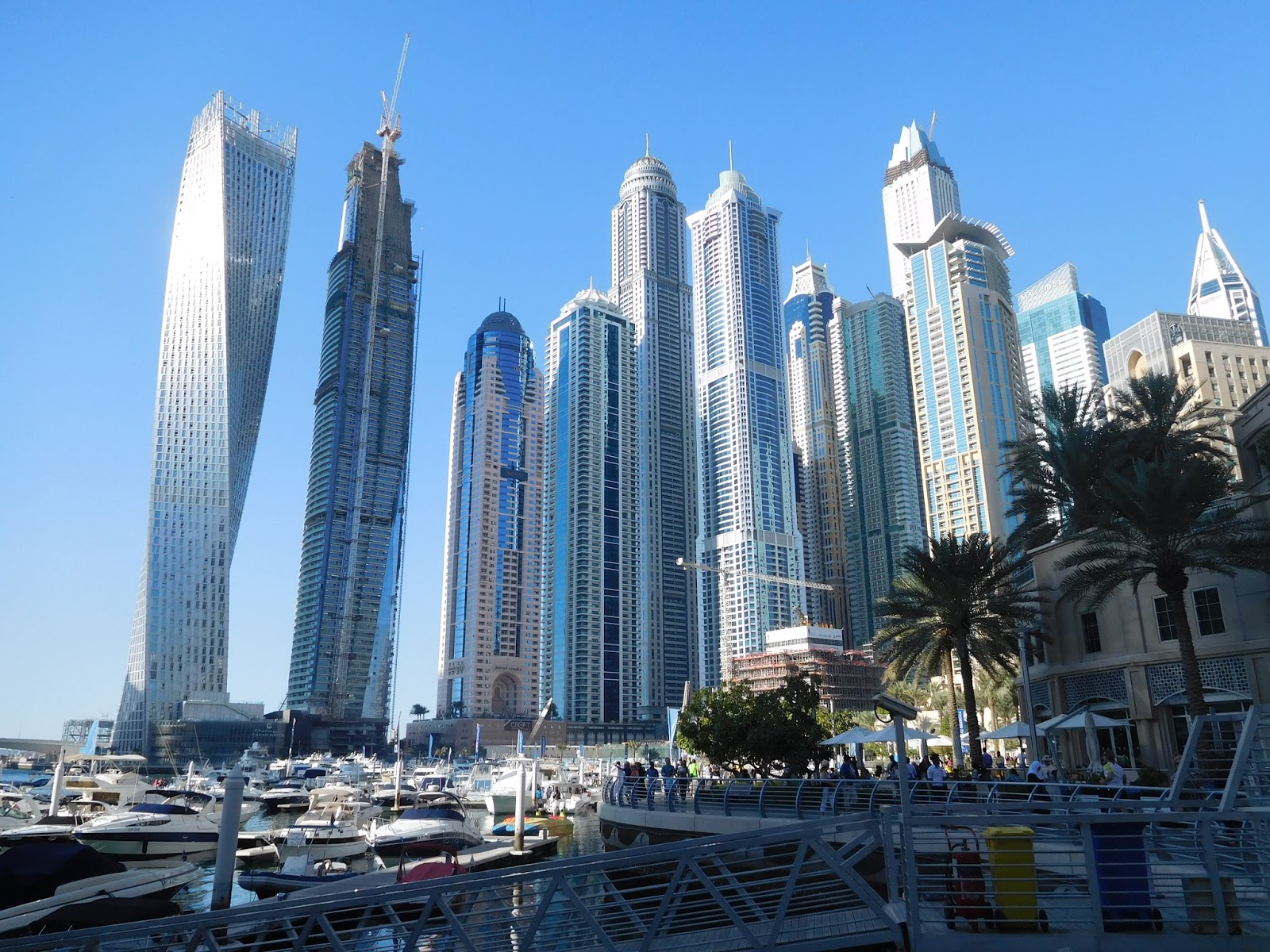 Dubai Marina mobs have been recently built with stunning twisting skyscrapers, while just near it is the beautiful Jumeirah Beach Residence Walk. This area owns some of the prime cafes, bars and some of the best restaurants. You can take a ferry which goes through the Atlantis Hotel, which is famous for its arch standing representing an entrance to the leaf-shaped Palm Jumeirah.
9. DESERT SAFARI
A desert safari offers you to experience the Bedouin existence from when the city was more sand than super-city. Many companies offer desert safari. Check all the details before booking. They start with a 4*4 drive to a beautiful Bedouin campsite where you can taste 'hubbly-bubbly' and barbecued shawarma. Choose an exciting ride around the dunes depending on your tempo. While during the sunset you could just relax enjoy the mesmerizing view.
10. DUBAI FOUNTAINS
I am sure you have heard about the great Dubai fountains. Stunning, exciting and FREE!  If you thought Bellagio fountain in Vegas was the best, then wait for it, till you see the Dubai fountains. The musical fountain show includes songs like Sama Dubai and Baba Yetu. The fountain is placed in front of the Dubai Mall surrounded by popular restaurants. Try to get a rooftop seat to get the best view of the fountains glory.
These were some of the popular places to visit in Dubai. Of course, this is not it; Dubai is filled with places to explore. It is a perfect blend of ancient times and modern era, thus making it a must visit the place.