5 Tastiest Bengali Sweets
Bengali meals are incomplete without having the mishti and Bengali sweets. It has been a tradition in Bengal to eat sweets after the meals. There meals end with famous sweets served as desserts. Mouth-watering already? Sweets are distributed on all the right occasions like the birth of a child, engagement, weddings, festivals and famous events. Distributing Bengali sweets is a fantastic idea. There are various Bengali sweets which are served after the meal. During Durga pooja in Bengal, the sweets are distributed in large quantities. These sweets are complicated to make, but they taste delicious. Bengali sweets are a complete gift to people having a sweet tooth. These desserts are mouth-watering. Some of the best and tastiest sweets in Bengal are stated below. They are the most famous ones too.
Sandesh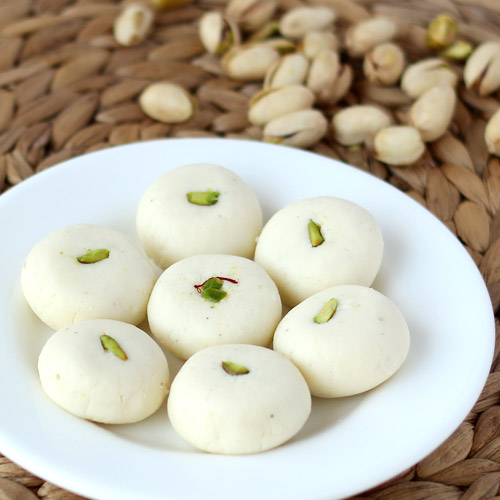 Sandesh is loved by all the Bengalis. Surprisingly it is very easy to make also. Sandesh is a milk based sweet, but sadly it doesn't last long so it should be consumed as soon as possible. It is a blissful satisfaction to your sweet tooth. There are different types of sandesh. They can be made in any flavor. It is mainly made with sugar and milk, but some recipes also use chhena or paneer instead of milk in it. People in the region of Dhaka call it pranahara which means heart stealer. Sandeshs are soft and sweet. Sandesh can be made at home by the use of milk or chenna. Sandesh is also served during breakfast. It is a healthy sweet and delicious one too.
Rasgulla
There aren't many Indians who have eaten rasgulla but the ones who have eaten this sweet remember it fondly. That's just the kind of magical desert it is. It is soft and spongy balls of cottage cheese soaked in sugar syrup. Rasgullas melt in your mouth and leaves you wanting more. Rasgullas taste even more delicious when they are chilled. Rasgulla is a syrupy dessert too. Rasgullas come dipped in sugar syrup, and they taste very delicious when they are super chilled. Rasgullas are very soft. If it is made correctly, some rasgullas will melt in your mouth. They are sweet and yummy too. They are small balls of cottage cheese which satisfy a person's sweet tooth.
Mishti Doi (sweet yogurt)
This is the most delicious of all the sweets. It is the fresh yogurt made in Bengal. Bengal is known for its mishti doi. Mishti doi is synonymous with Bengal in east India. The Bengalis are famous for making this doi. It is known as the most well-made desserts there in Bengal. It tastes amazing and is simple to make. It is different from the plain yogurt because it has a different technique of preparation. It is usually prepared by boiling milk until it is thickened with sugar. The chain of Annapurna Sweets in West Bengal and Delhi is very famous for its mishti doi. Mishti Doi is also served as dahi during lunch or dinner. It is a very healthy and yummy yogurt made by using milk.
Cham-Cham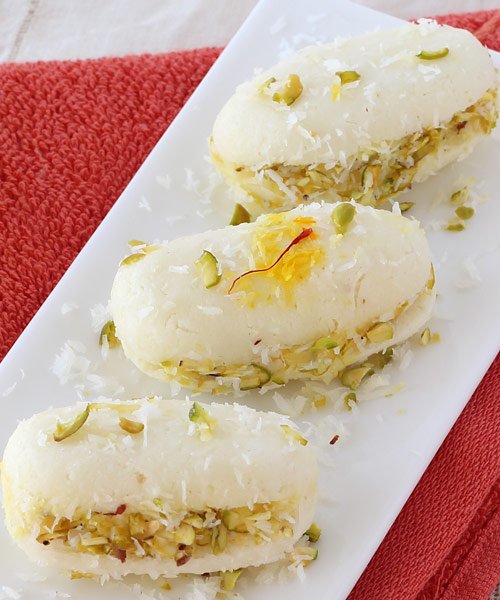 Cham-Cham is also called 'the pleasure boats.' Cham-Chams are utterly delicious and very sweet indeed. It is typically a Bengali sweet. It is made with mawa, milk, sugar, lemon juice, ararot, cardamoms, powdered sugar. Cham-Chams are yellow in color. They are very sweet because they have sugar syrup in it. It also comes in pink color. It is coated with various garnish like coconut flake or kesar on it. Cham- Cham is also dipped in sugar and moreover they are the nicest sweet of all the others.
Payesh/kheer (rice pudding)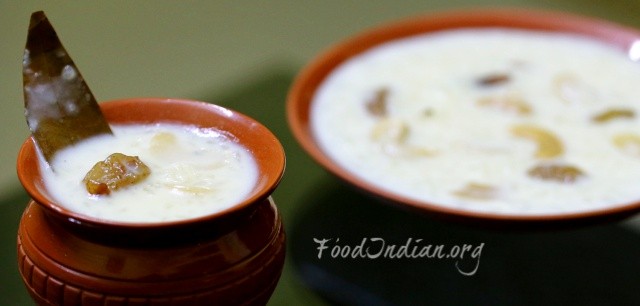 Source: foodindian.org
It is a creamy dessert and is flavored with cardamom. This pudding is full of nuts and is a great dessert for any time and occasion of the year. Kheer is made by boiling the rice and broken wheat with milk and sugar. Payesh is flavored with cardamom, raisins, saffron, cashews, pistachios or almonds. It is usually served during a meal or as a dessert. In some regions, it is also known as payasam, payasa, and fereni. Kheer is prepared on festivals and in the temples on special occasions. Kheer is a famous sweet of all time. Some people also add cream in it to give it a more creamy taste.
Sweets are an important part of all occasion in Bengal. Bengalis are fond of sweets, and so they make the most delicious desserts which are famous in Bengal region.