Libra Compatibility With Various Other Signs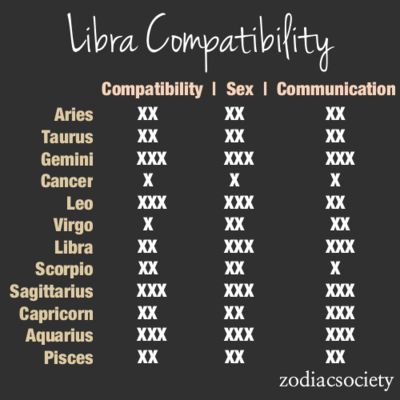 Libra are born in between 23 September to 22 October. Libra are kind and gentle. There are many Libra characteristics, Libra traits and compatibility. The most compatible signs with Libra are Gemini, Leo, Sagittarius and Aquarius. Libra is least compatible with Cancer and Capricorn. Let's discuss and compare Libra compatibility with various other zodiac signs.
Libra and Aries
Libra and Aries have a very interesting relationship. They have a lot of physical chemistry. Sometimes they will have to compromise their own needs for the other one. Their relationships might have a downfall if they don't understand each other's needs and wants.
Libra and Taurus
Libra compatibility with Taurus can face some challenges. In the beginning, they would not like each other, but with time they will settle well in their relation. They have a lot in common. If they accept each other's lifestyle and attitude, then they can improve their relationship with time.
Libra and Gemini
Libra compatibility with Gemini is one of the best matches. They work well together. Both of them have good hearts and will always care about the other. They would always avoid arguments and settle the situations with love and in a calm manner.