HOW MARKETERS USING TWITTER AD PRODUCTS CAN SCHEDULE TWITTER TWEETS
Great news for those who use Twitter Ad Products. If you are a twitter ad Product user, then you would surely enjoy the new set-up. And this seems to be one right step in the right direction by the Twitter team.
The announcement about how marketers and ad product users could schedule Twitter tweets has had an immense impact on the Twitter using world. You can Schedule Twitter Tweets which include both organic and promoted tweets.
I think I know what you'd be thinking "What could be the possible advantage? Or what is the big deal in it?" Well that was easy to guess. But marketers using Twitter Ad Products can plan and schedule their tweets until before a year. Shocking isn't it..
That is one hell of a job by the Twitter Ad team, a job well done. Just imagine you would be scheduling your twitter tweets for the next year. How amazing it would be!
According to Twitter these new idea could be incorporated with the present or new  Promoted Twitter campaign so that you could keep up with real time campaigns as per your requirement.
You could easily schedule your tweets during your vacations, festivals etc. The scheduling can be done in all the supported languages.
There are two ways to Schedule Twitter Tweets. This is how you could schedule them—
You can simply click on the blue button visible on the top right corner. At ads.twitter.com on the navigation bar, the button could be simply distinguished. Because of the simplicity, ease of access as well as availability of Scheduled Twitter Tweets and Twitter card at the same place makes it less time consuming.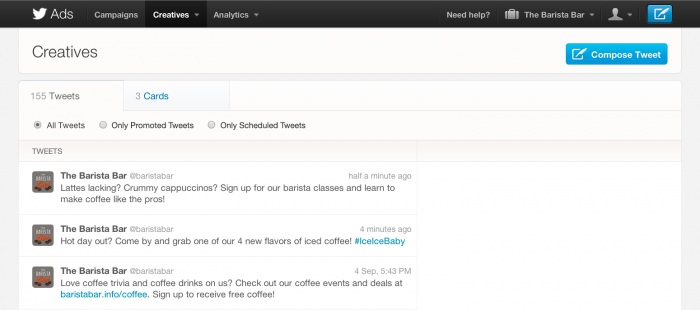 New Tweet Box
Here the compose Tweet button is present on the creative page.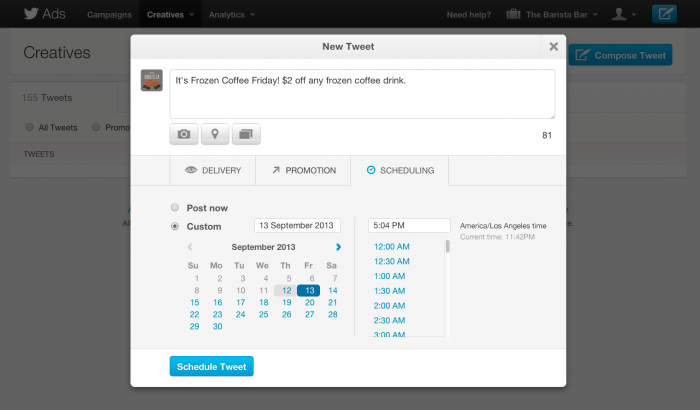 You can manage Tweets by simply composing a Tweet which may include photos, location or card as per your need and requirement.
Your Twitter followers would receive the organic Tweet or you could have a campaign where you can publish your Tweets to specific categories of people to make sure the message is delivered to the target audience.
Scheduling option
Your account Time Zone is shown and the Scheduling of the Twitter Tweets would be grounded on that time.